You Can Safely Walk Your Dog with Our Reflective Dog Vest Harness at Day and Night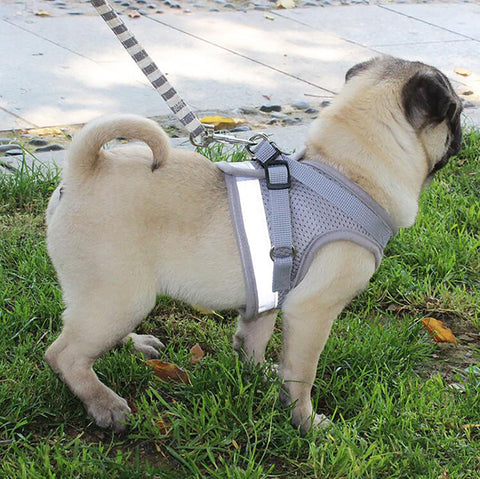 WHY CHOOSE PAWBABE'S DOG VEST HARNESS?
Reflective Effect - Reflective design can effectively avoid traffic accidents caused by light problems and helps owners find lost pets.
Extra Comfort - Lightweight design, uniform force. The dog vest harness consists of 4 webbings, comfortable and safe, which do not strangle your dog.
Soft Breathable Mesh - Soft and comfortable polyester mesh, no tearing, no damage to the dog's skin.
Easy to Use - Easy to put on and take off your dog without trouble, unique adjustable belt design, free to adjust the size, conveniently go out whenever you want.
A Necessity for Dog Owners - Recently, this dog harness is widely favored by dog lovers and has become a hot item in their hearts.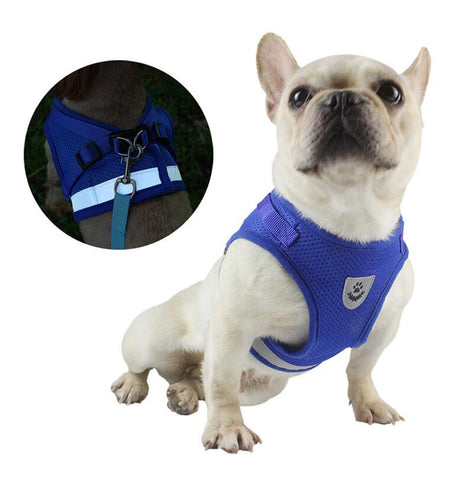 HOW TO CHOOSE THE RIGHT SIZE FOR YOUR PUPPY?
XS - Pets up to 1.5KG
S - Pets up to 3KG
M - Pets up to 4.5KG
L - Pets up to 7KG
XL - Pets up to 10KG
All Size Leash length: 1.2M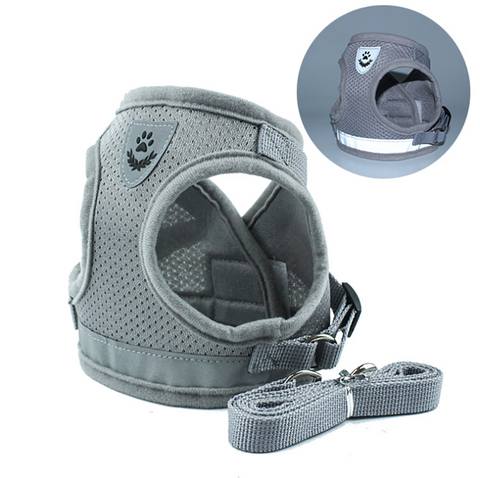 FREQUENTLY ASKED QUESTIONS
1. Where are you located and where do you ship from?
Our company and products are all designed in Sydney, New South Wales.
We only source high-quality Reflective Dog Harness from socially responsible businesses with ethical manufacturing practices.
Our branded products are manufactured in the United States, China & Australia.
We ship our products directly from our warehouse in Australia, China, or the United States.
2. How long will it take for my order to arrive?
For customers within Australia, your order should arrive within 8 - 15 business days after processing. Please be noted that there may be some shipping delays due to the current situation but we can ensure you the package will arrive successfully.
3. Which days do you ship?
We ship orders Monday–Friday. Please allow 3 - 5 days of processing time due to the current situation.
4. Which payment methods are accepted?
Visa, MasterCard & American Express Credit Cards are welcomed here.
5. How can I track my orders?
Once your order has been shipped, you will receive an email with a tracking link. Please allow 48 to 72 hrs for the link to show any information. The tracking links may not update but the package is still on its way once it has left the warehouse.
6. Why is the tracking link not working yet?
Please allow up to 3 days for shipping information to show up as tracking information is only updated when the package gets through parcel point hubs. This also means that if the tracker does not update daily the package is still on its way to you. If the package is not received within 30 Business days, please contact us.
7. What is your cancellation policy?
If you find yourself in a situation where you want to cancel the order, please let us know - contact our customer support - within 24 hours. Otherwise, there is a possibility the order gets to be processed and shipped.
100% MONEY-BACK GUARANTEE
Unhappy with your Reflective Dog Harness? We'll take it back! We'll stand out by our high-quality Reflective Dog Harness and your satisfaction 100% guaranteed.