Protect Your Fur Babies During Car Rides!
If you often travel with your four-legged friends, you must hope that they can stay in the car safely and honestly until they reach the destination.
Therefore, a good dog car seat belt is very necessary.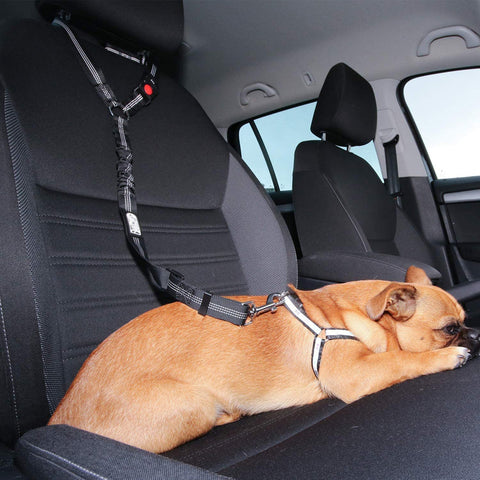 A dog Seat Belt is the easiest, most effective way to restrain your pup in the car and help to prevent driver distraction.
Why Choose PawBabe's
Headrest Dog Car Seat Belt
?
Multi-Functional: This dog seat belt is designed with a headrest restraint. It can be applied to most vehicles that have a headrest. The round strap hanging on the headrest is connected by a lockable quick-release buckle. This buckle can prevent the round strap opening and avoid your dog from being hit. Adjust the seat belt to the max length and grip the round strap to use it as a dog leash.
Humanized Design and Perfect Details: The lockable buckle of this seat belt is sturdy. The 360° swiveling hook prevents the dog from being entangled, while the straps are made of durable nylon. The reflective stitching design makes it convenient for nighttime use. The elastic bungee buffer prevents the dog from jerking with sudden movement.
Adjustable Length: With 2 adjustments one at the headrest and one on straps: the length of the strap can be adjusted from approx 73 to 85 cm, it's suitable for small to large dogs. It allows your dog to sit, stand, lie down comfortably or reach to see out the window but keeps the dogs from jumping around in the car. 
Keep Your Dog and Passengers Safe: This seat belt makes your dog comfortable, stay in the car obediently and enjoy the pleasure of the journey. It will not distract you while driving and cause traffic accidents.
Warnings: Please attach to a dog's harness and NOT a collar!
Please check your buckle's size and compatibility before purchasing.
No Dog Seat Belt = Distracted Driver
DOG SEAT BELTS HELP TO PREVENT DRIVER DISTRACTION. 
Studies have shown that more than 65% of dog owners will be distracted by dogs roaming freely in the car, which can lead to serious accidents and injuries.
Dog seat belts keep your pet in place, minimizing distraction so you can focus on the drive.
Adjust the length of the strap to use as a dog leash!
This dog car seat belt can not only be used to keep the dog safe in the car but also be functioned as a leash when having fun with him in the park or traveling outside.
Our Guarantee
We have strong confidence in our products. Every PawBabe product includes a 30-day, worry-free Guarantee. If you have any problem or suggestion, please contact us freely, we will provide friendly for you in 24 hr.
ADD TO CART NOW AND ENJOY FREE FAST SHIPPING TODAY ONLY!